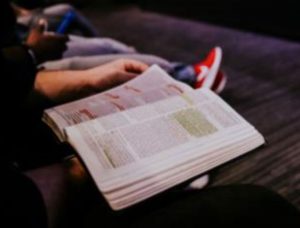 In Sunday School, students learn about the Bible from an early age. As children move up through the class levels they focus on the study of the weekly Bible Lesson and grow in their understanding how Christian Science heals through the knowledge of an all-loving God. Questions are encouraged and answered by devoted and experienced teachers. Students discover how spirituality is relevant in day-to-day life.
Classes dive into lives of key spiritual seekers in the Bible from kings and prophets to accounts of Christ Jesus healing the sick and sinning. Students are free to ask questions and are encouraged to study the Bible so it comes alive for them. It's an environment where each student feels totally supported and gives them a chance to look together for meaningful answers to the stuff that comes up in young lives.

Class lessons include:
Bible basics such as the ten commandments, 23rd Psalm, and the Sermon on the Mount
Key Bible characters such as Noah and Moses, David and Daniel, Peter and Paul and, above all, Christ Jesus
Spiritual lessons and Bible insights gained from studying the Christian Science textbook side-by-side with the Bible, Science and Health with Key to the Scriptures by Mary Baker Eddy
For Parents
For parents, enrolling children in Christian Science Sunday School is about giving your child a solid moral foundation—a spiritual framework that will help them ask questions about who they are, their value, and their purpose.  They learn lasting life lessons and get answers to key questions which provide them with confidence, comfort, healing, and guidance today and throughout their lives.
Add the dimension of spiritual education to their academic and athletic curriculum
Empower your children with Bible knowledge and key lessons from the Scriptures which show them how to pray with confidence and understanding about any situation
Give the gift of comfort and healing which comes from a clearer understanding of God's nonstop love for them