Reading Room
Our Reading Room, located in our church building and open after services, is a quiet place for study and learning more about Christian Science.  We offer many products for sale which include The Christian Science Monitor, inspirational music CD's, Bible Lesson booklets, and pamphlets devoted to timely subjects.  You are also able to borrow publications from our extensive lending library.
Come visit us!
Our Pastor
The Bible
The Bible is at the center of a Christian Scientist's prayer.  The King James Bible is the version Mary Baker Eddy most frequently used and referenced. Other Bible translations are occasionally used in weekly Bible Lessons and are a valuable tool in personal Bible study.
Science and Health with Key to the Scriptures
The Christian Science textbook, written by Mary Baker Eddy, explains how prayer heals based on the ministry and life of Christ Jesus.  Starting with the first chapter on "Prayer," her spiritual insights draw you into a deeper way of thinking and teach how to live a more spiritually-centered life by knowing God better.
Click here to access other writings by Mary Baker Eddy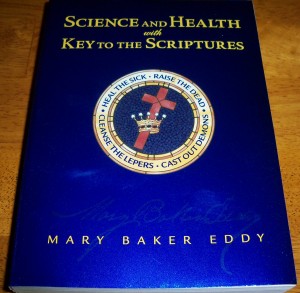 Official Website of the Christian Science Publishing Society
Search specific topics, read articles, listen to podcasts – all on spirituality and spiritual healing.  Search for a Christian Science Practitioner, church, Reading Room or college organization.  To begin your search of www.jsh-online.com click here.
Bible Lesson (weekly)
The Christian Science Bible Lessons are designed to bring comfort and healing and are studied daily by Christian Scientists around the world.  Each Lesson is made up of Bible verses that are explained and complimented by related passages from Science and Health with Key to the Scriptures.  The passages can be read directly from the books, or you may find one of the booklets, a podcast, or CD more convenient.  There is also a special edition that includes helpful study notes and ideas that meet the daily needs of teens and young adults.
Find out more and take a look inside each type of booklet and electronic edition by clicking here.
Companion Set of Bible and Eddy's writings for individual study each day of the weekly Bible Lessons

UPCOMING BIBLE LESSONS

10/1/2023

-

Unreality

10/8/2023

-

Are Sin, Disease, and Death Real?

10/15/2023

-

Doctrine of Atonement
The Christian Science Monitor (weekly)
Insightful, global coverage of news is accessible in our weekly magazine, on The Christian Science Monitor's website or mobile site, or through daily news briefings.  Newsletters are delivered by email and you can select which topics you'd like to receive.   According to the Monitor's founder, Mary Baker Eddy, the Monitor's mission is: "To injure no man, but to bless all mankind."
Click here to link to the Monitor's website.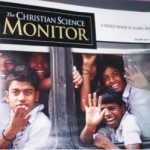 The Christian Science Journal (monthly)
The Christian Science Journal includes articles which share spiritual insights and healings written by those who faithfully practice Christian Science.  Learn more about how cultivating an ever-increasing understanding of God's love blesses, enlightens and heals.
Click here to link to the Journal's website.
The Christian Science Sentinel (weekly)
A weekly publication, the Christian Science Sentinel's articles and firsthand accounts of healing show in practical terms how Christian Science can bring solutions to any situation. Each edition focuses on a relevant topic such as health, finances, employment, security and relationships.
Learn more about this dynamic weekly publication by clicking here.
Christian Science Practitioners
Christian Science Practitioners are dedicated and experienced Christian Scientists.  They are available to those seeking healing and a more spiritual perspective on life.  They receive payment for their services.  In addition to articles and accounts of healing, the Christian Science Journal contains a worldwide directory of Practitioners.
Visit the online directory by clicking here.
         SEARCH BY:  Person's name, City name, or Zip Code
 Christian Science Lectures
Public lectures about Christian Science and the life of its Founder are given by experienced practitioners and teachers around the world.  These free lectures explain and illustrate how prayer brings comfort and healing to issues and concerns in individual lives.
Many past lectures are available online – feel free to search for a lecture near you or watch a video of one of these inspiring talks on a wide variety of topics including how to heal sin, sickness, addiction and lack through prayer; finding security in God's economy; and the brotherhood of man.
Youth Programs
Are you a teen or young adult looking to connect with other spiritual thinkers?  Or maybe you'd like to join a college group, attend a youth spiritual summit meeting, or find a local Sunday School.  Check out videos, blogs and live chats at www.time4thinkers.com.  It could change your life.
Be sure to check out the special youth-focused version of the weekly Bible Lesson called My Bible Lesson.  Click the "Download myBibleLesson Sample" button to view or download a sample of a prior Bible Lesson. You will see key topics, questions to consider, word definitions and even cartoons!
And click here to start a new spiritual adventure by exploring christianscience.com/youth!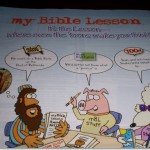 A Deeper Dive
More information about Christian Science is provided on the website of The First Church of Christ, Scientist, our global headquarters, which is also referred to as The Mother Church. Here are a few of the key links