Join us on Sundays from 10:30-11:30 am and Wednesdays from 7:30-8:30 pm
Sunday Services 10:30-11:30 a.m.
What can you expect at a Sunday Christian Science service?
The Bible and the Christian Science textbook are our only preachers. The weekly Christian Science Quarterly Bible Lesson is read as our sermon at all Christian Science churches through the world. The Lesson is comprised of citations relevant to each weekly subject from our Pastor: the Bible and our textbook, Science and Health with Key to the Scriptures by Mary Baker Eddy. To learn more see www.ebiblelesson.com.
In addition, Bible passages selected by local "readers" are read at the beginning and end of each Sunday service. Three hymns are sung by the congregation during the service.
These Bible passages and hymns from our recent services are listed below, and include a PDF with Bible texts of the opening Scriptural selection, closing benediction, and hymn lyrics.
Recent Sunday Selections: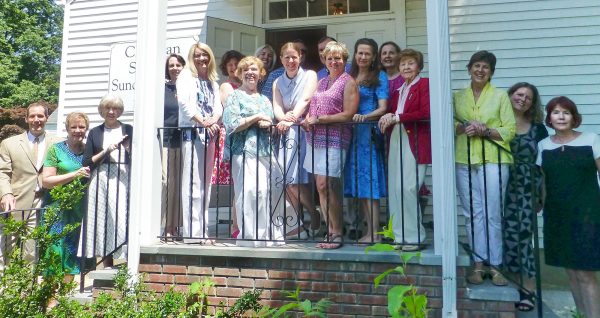 Fun fact: 26 Bible Lesson-Sermon topics are repeated twice each year and range from "God", "Love", and "Life" "Christ Jesus", "God, Only Cause and Creator", and, of course, "Christian Science."
Upcoming Bible Lesson Topics
Wednesday Testimony Meetings 7:30-8:30 p.m.
This midweek Testimony Meeting is a wonderful opportunity to express gratitude to God for healing.   These Meetings are opened with a hymn, then carefully selected passages are read from The Bible and the Christian Science textbook, Science and Health with Key to the Scriptures by Mary Baker Eddy, on a topic the Reader (elected by the church members) has selected.
After praying together and singing another hymn, the meeting is opened up for attendees to share testimonies of healing or remarks on Christian Science. The hour-long meeting concludes with a final hymn.
Readings from recent testimony meetings are listed below. A PDF is provided with the full readings and hymn lyrics for each service.
Recent Wednesday Readings:

Attendees are invited to share accounts of healing through prayer, insights from Bible study, and remarks about Christian Science.
Attend Sunday and Wednesday services In PERSON or via Zoom.  See details in Our Worship Services section above.